This thread will be your one stop shop for CM6.1 Themes. Come back frequently as I like to updated often
Feel free to donate if you like my work!

To kick things off, here are some font downloads to help in your customization. These are to be flashed through recovery (clockwork) and will work with ANY theme you choose.
Optional Font packages
(Install with Clockwork Recovery ONLY)
Default Android:
Default_Fonts.zip
Evolution:
Evolution_Font.zip
Kangerade (NexTheme):
Kanged_Fonts.zip
Dark Edge:
DarkEdge_Fonts.zip
Antipasto:
Antipasto_Fonts.zip
Gala S:
Gala_S_Fonts.zip
Zegoelight:
Zegoeliht_Fonts.zip
Theme #1
: REVOlution by Manup456
Original Thread for this theme:
[THEME] 8/30/2010 Manup456 The EVO Collection 2.2 UPDATED =) - xda-developers
I added in the black Gingerbread pop-up menus. Looks very good with this theme.
Download:
REVOlution - CM6.1.zip
(Updated 12/11/10)
Notification Colors Theme:
REVOlution.xml
(Save to sdcard/CMTheme and install through your CyanogenMod settings under "User Interface" --> "Tweaks extras" --> "Select a theme")
Alternate Battery Icon:
REVOlution_Alt_Battery.zip
(Flash this AFTER installing original theme)
Themed Apps
- ESPN ScoreCenter 1.1.1
- Facebook 1.5.0
- Gmail 2.3.2
- Google Voice 4.213
- Pandora 1.3
- Twitter 1.0.5
Instructions: DO NOT FLASH THIS ZIP. Extract desired .apk to SD card and install through a file manager or desired method. Any version of app being installed must be removed from phone first.
Download:
REVOlution_Apps.zip
Themed LauncherPro:
REVOlution-LauncherPro-0.8.2.0.apk
Photos
Alot of people are asking about the LauncherPro dock that I have pictured. I'm posting a file that has both the dock background and the text icons that Manup designed for this theme. Use whatever shortcut you want and just match the word icon up with what best describes what your doing.
Evolution_Dock.zip
--> This is NOT flashable through recovery. This .zip contains icons and a background dock image that needs to be applied through the LauncherPro preferences.
Themed htc_ime keyboard:
Download
Install with a file manager as you would any other .apk.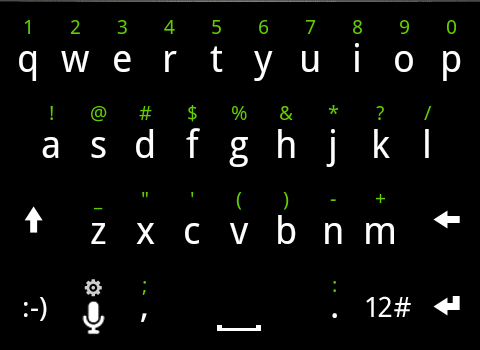 Edited by Benny879, 24 December 2010 - 06:45 PM.